Now that I have settled on a mathematical model for my playoffPredictor.com computer ratings for the 2023 season, I wanted to look back and see what team has been the highest rated team since my website and the playoff started in 2014.
In the 9 years of the cfp era, there have only been 4 teams to go undefeated. There are three 15-0 teams (2018 Clemson, 2019 LSU, and 2022 Georgia), and one 13-0 team as a result of the COVID year (2020 Alabama).
Popular wisdom would tell you that the 2019 LSU team is the best of the last nine years, but put it in the computer and it spits out a surprising result – that LSU team is only 3rd best.
The #1 team of the era? 2020 Alabama. Here is the full list of every team in the playoff era that managed to get greater than a 1.0 playoffPredictor.com rating: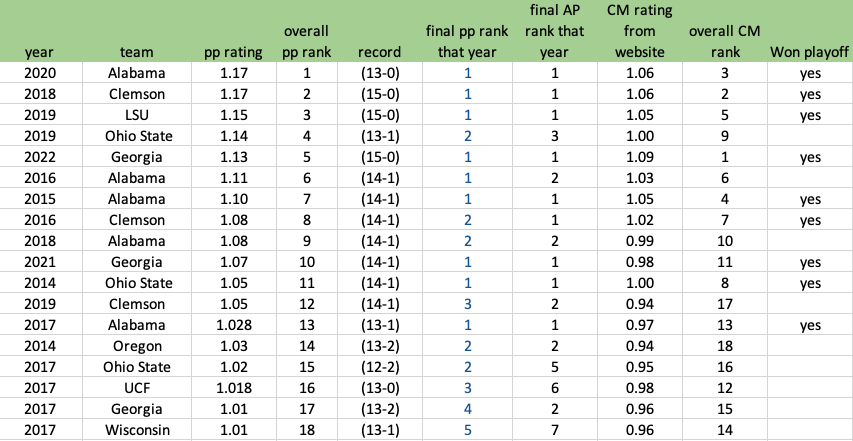 2020 Alabama was an incredible team that does not get their due because of COIVD. No close games at all – closest win was 15-points to Ole Miss. 8 blowouts, including both playoff games. Did not even play anyone ranked lower than #82.
2018 Clemson is on top of 2019 LSU because they played only 2 close games (Texas A&M and Syracuse), only 2 games with a normal victory margin (South Carolina and Boston College, 20-21 points each, which is right on the edge of blowout), and every other game was a >= 28-point blowout, including against #3 Notre Dame and #2 Alabama. I mean, who in the cfp era beats Alabama by 28 points? That list has one entry on it. I mean, there are only 2 other entries on the list that have beaten Bama by more than 7 points in the 9 years of the CFP era (2021 Georgia-15 points, and 2017 Auburn-12 points).
The only teams to make the list outside of the Alabama/Georgia/LSU/Clemson/Ohio State leadership are Oregon, UCF, and Wisconsin.
So back to 2019 LSU, why are they relatively low? Because before blowing out Oklahoma and beating Clemson in the playoff, they played 3 games all decided by 7 points or less (Texas, Auburn, Alabama). That lack of margin-of-victory hurts their overall resume. In fairness, this is a clear situation where Margin-of-Victory does not tell the correct story. In all three of those games LSU was in control and simply recovered an on-side kick by the opposition in order to turn a late 2-score game into a 1 score game and took knees to end those games. Maybe in another year I'll switch the formula to time of victory and that will put 2019 LSU higher, but that is for another blog post. 2019 Ohio State was an incredible computer team that year, even with the single loss to Clemson. Better than 6 of the last 9 national champions. It would have been something special to see that 2019 Ohio State team take on 2019 LSU if that wide receiver had not stopped his route short.